Craig Davis: Is time running out for the creative industry?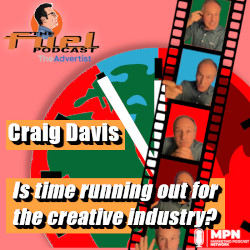 A chat with the marketing and climate expert Craig Davis, where we review our environmental and advertising series, to verify our sources and give you all the talking points you need to speak with authority on how the creative industries can be part of the solution and not the problem.
We cover farming and plant-based food, EVs, global warming and renewable energy.
It's all here folks! How to use trusted sources of information, how the cost benefit ration has been skewed to fool us, how to move away from reliance on dictators and despots for our energy, the art of survival, lying politicians, how big auto is wasting valuable marketing money, Elon Musk and Tesla, automotive ecosystems, how the EV market will consolidate, the Albedo Effect and the Climate Clock, the 8 year climate cliff, the war on subsidies, Impossible Foods, Fossil fuels Coca-Cola and Cop 27.
Podcast: Play in new window | Download (Duration: 1:18:43 — 108.2MB)
Subscribe: Google Podcasts | Spotify | Amazon Music | Android | Pandora | Stitcher