Nils Leonard: Uncommonly Creative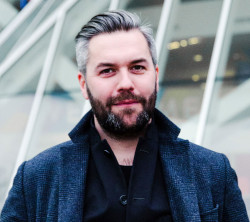 Nils Leonard doesn't really need any introduction but once you've met him you'll never forget him. He's the former leader of ad agency Grey LDN who left to let his creativity run free with a bunch of like-minded colleagues at Uncommon.
As you'll hear, Nils rejects the stuffy, service-focused image of advertising and insists that he's in the business of creativity and making a difference every day for himself, his team and his clients.
How come we've created an industry that has its own 'Skip' button on the internet?
It's the ideas that create the gravitational pull of the agency and Uncommon is walking the talk every day. From unique and memorable marketing and advertising campaigns, film & music direction, to startup incubation and flower arranging. It's all here.
Nils talks about his early years, his passion for working with clients that are in a transformative state and want to become a brand that customers wish existed. He also covers Uncommon's brilliant ground-breaking mental health work with broadcaster ITV, British Airways' new campaign and turning taboos into talking points. We talk Halo coffee, green issues, his top 3 personal creative awards and the release of Uncommon's first documentary.
Also how he managed to catch Donald Trump on film, smashing up a solar panel with a golf club.
So strap yourself in for the ride of your life.
Podcast: Play in new window | Download (Duration: 1:05:12 — 89.6MB)
Subscribe: Google Podcasts | Spotify | Amazon Music | Android | Pandora | Stitcher | RSS