Liam Keogh – Palm PR: The Land of Mylk
&

B+tter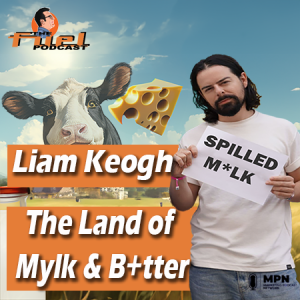 How to build a PR agency for the future
Liam Keogh is the co-founder of PALM PR, arguably the UK's most creative independent PR agency working in the food and drink and hospitality sector.
He's one of those guys who runs through walls to make stuff happen – and it shows in how his agency works.
Collaborating with his team to identify future clients, issues and policies that ensure everyone plays a role in the progression of the agency is just one of the secrets of his success
Palm PR is also the agency behind the controversial petition to get the Government to stop preventing plant-based innovators from using words like "Milk", "Cheese" and "Butter" in their product descriptions and marketing .
Currently, in the UK there is a blockade on the use of these words and Palm PR argues that this is directly impeding innovation in the industry.
This is very typical of the spirit and energy that Liam and his sister Emily have built Palm PR on.
Employee-owned Palm is a true innovator, which the PR industry has recognised through all the awards and acknowledgements it has garnered in its history.
Liam explains how to tick all the boxes to create an agency that is built for the 2030s.
Podcast: Play in new window | Download (Duration: 1:21:39 — 112.2MB)
Subscribe: Google Podcasts | Spotify | Amazon Music | Android | Pandora | Stitcher