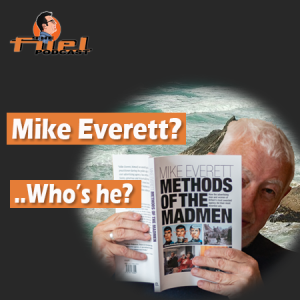 In the 1970's Mike Everett went straight from secondary school into advertising, starting in the mail room and eventually trying his hand at copywriting, at which he became an expert.
In 1973, he began a 14 year stint at Collett, Dickenson, Pearce and Partners – one of Britain's most outrageously creative and prolific advertising agencies.
He worked at Lowe International with Sir Frank Lowe as worldwide creative director.
He's still at it, as creative partner at Anatomised – a digital, display and TV advertising consultancy.
He's on the show to discuss his incredible career and also his book Methods of the Madmen, a behind-the-scenes look at some of the ads that made Britain great, giving a detailed look at the creative process and the struggles to bring some of the most adventurous adverts to life, working with the best film, art and creative directors of the time.
Starring: Tony Brignull, Paul Collins, Mike Cozens, Graham Fink, Steve Harrison, Dave Dye, John Kelly, Tim Lindsay, Terry Lovelock, Sir Frank Lowe, Sir John Hegarty, David Abbott, David Hughes, Bill Bernbach, Sam Delaney, Peter Matthews, Sir Alan Parker, Sue Peters, John Salmon, Paul Smith, Mike Townend, Alan Waldie, Graham Watson, Paul Weiland, Peter Souter, Martin Galton and many, many more.
Podcast: Play in new window | Download (Duration: 1:27:08 — 119.7MB)
Subscribe: Google Podcasts | Spotify | Amazon Music | Android | Pandora | Stitcher