Sir John Hegarty: What's the Big Idea?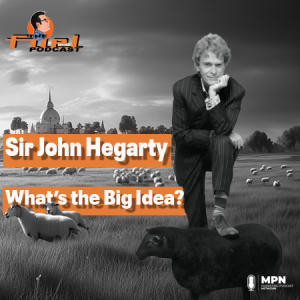 One of the greatest minds in the world of advertising is on the show to explain how we can recapture our creative essence and make the business of marketing the sexy, inspiring innovative, funny, thought-provoking, engaging and compelling business that attracted us to it in the first place.
He also explains how great creative is better for the planet.
Importantly, he's also here to tell us how we can all join his masterclass called 'The Business of Creativity'. The link to sign up is in the show notes.
The free press of podcasting
Learning from history
Game changing works of art
What one advert John Hegarty holds up as an example of the complete big idea
Why companies need creatives at the top
How to win a pitch
Why brainstorms are boring
Diversity
Hiring the best
What Sir John would like on his gravestone
And why you don't put a tow bar on a Ferrari..
8 weekly lectures packed with tips and playbooks which John has used throughout his career to harness and unlock your creativity:
Understanding creativity
How to get started
The Power of Truth
Creating a Culture
The Creative Process
Finding and Nurturing an Idea
Storytelling and Selling creativity
Living the Creative Life
Sign up for the course now!
Podcast: Play in new window | Download (Duration: 1:13:48 — 101.4MB)
Subscribe: Google Podcasts | Spotify | Amazon Music | Android | Pandora | Stitcher