Simon Raybould: Be a better public speaker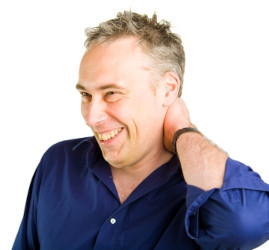 The fear of public speaking affects up to 75% of the population. Simon Raybould is the man who whispers in the ear of conference speakers, presenters and leaders to help them add meaning and authenticity to their pitches and lectures. With all this new hybrid working, the odds of you landing a meeting on video with an important prospect or a virtual room full of clients have just greatly increased.







Here's how to make sure that your next presentation kicks butt and you deliver it with panache and confidence.
In this show, we discuss:
The two types of nerves
The art of practicing
How to prepare for a presentation
How to eliminate the factors that can derail your performance
Reflective practice
3 priorities of any presentation.
Dangers of making assumptions about your audience
The art of staging Zoom backgrounds
Lighting and trust
How to find your natural pitch with AHA
Following up
How to calm your nerves
Podcast: Play in new window | Download (Duration: 1:09:32 — 95.6MB)
Subscribe: Google Podcasts | Spotify | Amazon Music | Android | Pandora | Stitcher