Ben Salmon – Crank: You're Doing eCommerce All Wrong!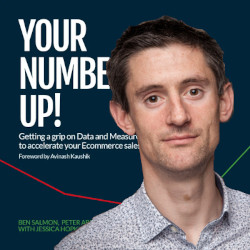 Ben Salmon is a master of numbers and eCommerce – but don't let that put you off!
If ever there was a person who could mix the science of etailing with brand and marketing advice, it's Ben.
This show celebrates the launch of the book that he co-authored with Peter Abraham, Tim Shaw and Jessica Hopkins.
'Your Number's Up!' is a magnificent deep dive into the do's and don'ts of eCommerce – simply presented and engagingly written, it should be on the book shelf of anyone in digital retail.
In fact – given the pandemic and the social pivot to online commerce, it's a must-read for any company with a web site.
It makes it easy to plot where you are on the evolutionary chart and what your best next steps should be.


In this show, we discuss:
🔢 What lessons retailers can bring forward from the last 200 years into the present day
🔢 The differences between mobile and desktop consumers
🔢 eCommerce measurement maturity
🔢 How to prioritise your digital spend
🔢 How did the UK overtake the USA in development
🔢 Digital Revenue as a percentage of Total Revenue for annual reports
🔢 Who's doing it right and who's missing opportunities?
Plus Jeremy Davies is back with a brilliant point to make about agencies pitching for free
Podcast: Play in new window | Download (Duration: 1:13:48 — 101.4MB)
Subscribe: Google Podcasts | Spotify | Amazon Music | Android | Pandora | Stitcher