Gustav Martner – Greenpeace: This is Fine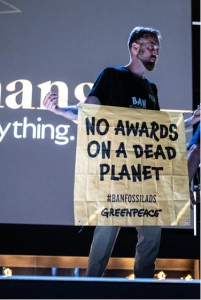 It's not fine. It's far from fine. It's about as far from fine as it could be. Gustav Martner is the Creative Director of Greenpeace Nordics and earlier this year, he handed back one of his many Cannes Lions as a headline-grabbing protest against the advertising industry that is still rewarding companies that are causing maximum harm to our planet, while they gaslight us into thinking they are doing good.
Enough already! It has to stop and Gustav explains why.
He's on a mission to have advertising from fossil fuel companies banned and if your agency works for a fossil fuel company, then he's coming for your budgets.
And a milder, more level-headed guy you couldn't wish to meet. He's not some tree-hugging hippie that glues himself to the motorway. He understands the whole argument because he's been on the other side of the fence, running agencies and working for big oil, big aviation and big auto but he's seen the light…and it's fading fast.
Here's a show about how the advertising industry can still do what it does best, but as a force for good for the planet.
Podcast: Play in new window | Download (Duration: 1:07:25 — 92.7MB)
Subscribe: Google Podcasts | Spotify | Amazon Music | Android | Pandora | Stitcher