Kevin Taylor: The subtle art of negotiation
Lawman Kevin Taylor once had to negotiate for his own life with a shotgun shoved in his face. He's also had to negotiate for other people's lives too, because he's been at the sharp end of hostage negotiation for decades.
These days, he prefers the cut and thrust of boardroom to the perils of policing but the skills translate to the business and sports worlds, where he's paid to help parties achieve a win.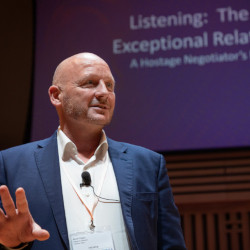 Negotiation is one of the foundations of the new business world but most of us have no training in the art – we just make it up as we go along.
And without knowing how to get the best deal for you and your prospect, you're always turning up to a gunfight with a banana.
Spend the next hour and a bit listening to one of the UK's best negotiators, spreading the wisdom about the subtle art of negotiation.
Podcast: Play in new window | Download (Duration: 1:24:02 — 115.5MB)
Subscribe: Google Podcasts | Spotify | Amazon Music | Android | Pandora | Stitcher