Kate Bradley Chernis – Lately AI: How to recycle digital content for maximum effect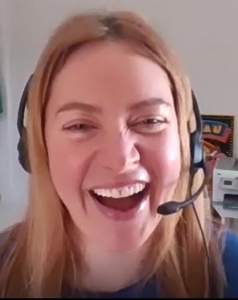 Kate's the CEO of Lately.AI the only social media management platform that creates content for you with the power of Artificial Intelligence.
Like most of our guests, there's a hell of a lot more to her than just being the CEO of a cutting-edge company. She's a wonderful personality, hilariously dark, doesn't take prisoners and we predict you'll be seeing Lately on the NASDAQ within the next two years.
Kate shares her journey with us, and her tips on making your digital content work for you, but because that's where every other podcast stops, we went further.
In this supercharged interview, we discuss:


Throwing shade on Clubhouse
The art of interviewing
The cynical music industry
The future of music streaming
The stress of toxic workplaces
A message to Mr Bradley
Accessing your 'Nine'.
And we don't stop there. We published a YouTube exclusive of the show here but that version doesn't include an insightful segment from Mr Jeremy Davies who serves up a wonderful analogy of how your colleagues are like popular brands.