Stevie Spring CBE: By Royal Appointment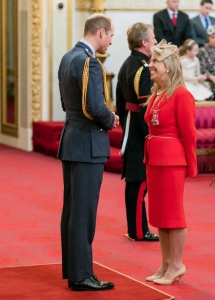 We're on a mission to uncover the secrets of a healthy mind, body and creative soul.
Stevie Spring CBE, former new business director at ad agency GGT, alongside Dave Trott and Paul Grubb, Chairman of mental health charity Mind, former chair of the British Council, board director at retail giant Co-op and general all-round amazing person sits down to discuss her life, career and philosophy and why she recommends dividing your time between profit, people and planet.
Fuel's objective this year is to investigate the working from home, hybrid or blended business model, and how to maintain a positive mental outlook.
Stevie is a remarkable woman. She's the very definition of the phrase, friends in high places.
In this episode, Stevie tells us the origin of her philanthropic mindset, how you can increase the odds of being lucky.
We discuss her career, from direct response advertising on TVAM in the 80s to the white heat of creativity at GGT.
We discuss how she still influences the advertising industry today, why ad agencies are the architects of the marketing world; the challenges of brand ambassador management.
She tells all about Roland Rat and Pudsey Bear.
We discuss how to manage the new working model and how to reach a healthy work/life blend.
The art of salesmanship and relationship management.
The difference between entrepreneurs and intrepreneurs; investments that worked and those that got away; Stevie's path to inner contentment and how to audit your progress.
She's also got some fantastic recommendations for dealing with the mental health crisis and how to get a 5x return on your investment in people.
The value of activism and the joy of journaling and discovering bands at music festivals.
What a way to kick off season 4!
Podcast: Play in new window | Download (Duration: 1:40:55 — 138.7MB)
Subscribe: Google Podcasts | Spotify | Amazon Music | Android | Pandora | Stitcher