Ted Rubin – The Emotional Connection: How networking drives sales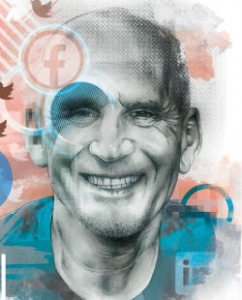 Ted is a leading Social Marketing Strategist with millions of social media followers in his network. How does he leverage his influencer power to further his business objectives? Entertaining, funny, engaging and compelling, Ted shares some of his secrets to help you supercharge your sales strategies.
In March 2009 Ted started using and evangelizing the term ROR, Return on Relationship™, a concept he believes is the cornerstone for building an engaged multi-million member database and community, many of whom are vocal advocates for the brand.
Many people in the social media world know Ted for his enthusiastic, energetic and undeniably personal connection to people. Ted is the most followed CMO on Twitter according to Social Media Marketing Magazine; one of the most interesting CMOs on Twitter according to Say Media, #13 on Forbes Top 50 Social Media Power Influencers, and number #2 on the Leadtail list of Top 25 People Most Mentioned by digital marketers.


In this show, we discuss:
💥What makes a company VC-worthy
💥Why influencer marketing out-performs advertising
💥Why CMOs are getting it all wrong in the boardroom
💥The 5 principles behind Return on Relationship™
💥How accurate is his horoscope?
💥Getting and retaining a sales prospect's attention
💥How to Co-Own your content
💥How to recycle and re-purpose content
Podcast: Play in new window | Download (Duration: 1:44:34 — 143.6MB)
Subscribe: Google Podcasts | Spotify | Amazon Music | Android | Pandora | Stitcher