Tim Lindsay – D&AD: Creative greatness
&

New Blood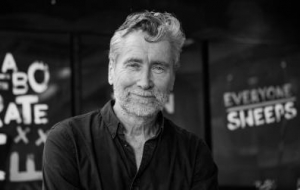 Tim Lindsay is the Chairman of the D&AD – the advertising and design organisation created in 1962 to promote excellence in the industry. D&AD's Pencils are the most highly sought-after awards for creative brilliance. They give any creative – young or old – lifelong bragging rights round the workstation.
In the last couple of years, the D&AD has been fighting a battle on two fronts: it has had to scramble and adapt to a world without meetings and events and it has been leading the charge for equality, social and environmental responsibility in the industry, which has attracted ire and praise in equal amounts.
So what does Tim think about it?
In this wide-ranging interview, he outlines the future strategy of the D&AD, recounts stories of advertising legends he's worked for and with, provides advice for the creative industry on pitching for work and solutions for how the industry can defend itself from accusations of elitism. Along the way, he reveals his own all-time top 3 advertising campaigns and his hopes for the advertising industry's role in the new economy.
In this interview, we discuss:
⚡ The D&AD's new responsibilities for creative standards
⚡How to increase diversity in the creative and advertising industry
⚡Are influencers creative?
⚡How can the creative business claw back its prestige?
⚡Whether agencies should or should not pitch with creative work
⚡Agency compensation and burn-out
⚡Surveillance marketing or intent marketing?
And an amazing couple of coincidences with our What3Words game, so stick with it to the end!
Also – the ever-hilarious Jeremy Davies on who drives the creative car – the agency or the client?
Podcast: Play in new window | Download (Duration: 1:25:26 — 117.3MB)
Subscribe: Google Podcasts | Spotify | Amazon Music | Android | Pandora | Stitcher